UPDATE: We are now open at 50% in store and patio seating capacity.
We have missed you! As the quarantine eases and businesses like ours are allowed to resume service to customers we want to assure you that we are ready to serve you safely. In phase two we have to limit our seating capacity to 50% while also maintaining a safe distance between existing tables. It is also important to proceed through these times with both our guests AND our staff safety as a priority. While things may look differently and we may not be able to serve as many of you, we promise to deliver the best craft wine and beer experience in town.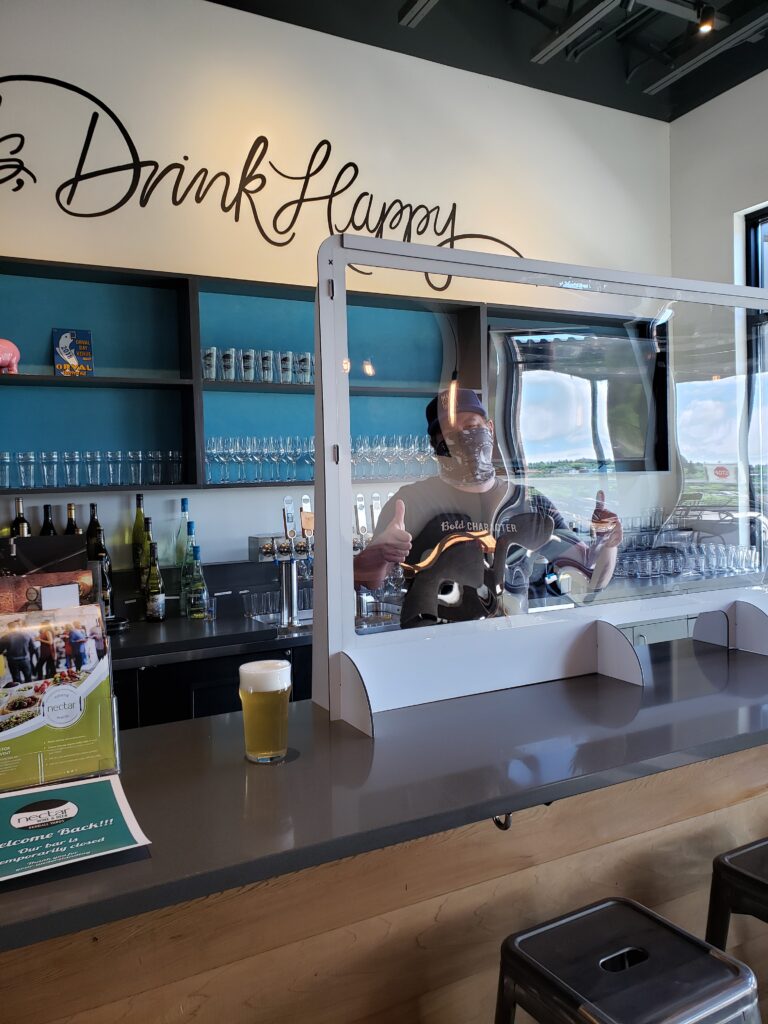 What will you notice? Aside from the obvious physical changes of less available seating we have installed Plexiglass barriers at the front cash register and at the bar. The bar barriers allow us to seat six more people than we would have otherwise. Servers will be wearing masks (for their safety and yours) and a sanitation schedule is being implemented to regularly clean surfaces every two hours as well as routinely during the shift.
To manage the flow of seating a host will be in charge of welcoming you and seating you to a freshly sanitized table inside or on the patio. Our seating chart must remain fixed. If you need to adjust any seating arrangements please ask a server if that is possible. The changes we are implementing are not there to inconvenience you. They are there to ensure that we comply with state mandates so we can continue to serve you. We know you will be respectful of our team and their efforts. When enjoying our establishment please practice social distancing, utilize our sanitizer provided at every table, wash your hands and keep all seating arrangements to no more than five guests.
NEW STORE HOURS
Sunday – Thursday Noon to 9pm
Friday and Saturday Noon to 10pm
Thank you in advance and we will see you soon!