It's somewhat uncommon to find a brewery that is most known for a collaborative brewing effort, but it would be hard to come up with a collaboration in the northwest that is more consistently coveted than Fort George's annual 3-Way IPA. Fortunately, a deeper dig into the repertoire from Fort George renders a bevy of other delicious beers that demonstrate the brewery's consistently high quality level. The range of delicious beers that Fort George produces have us excited to announce them as our featured brewery for the month of August.
Keeping History Alive in Astoria
Fort George Brewery exudes a strong sense for the history of their home in Astoria, Oregon. Named for the city's moniker during the brief time that Astoria spent under British rule during the War of 1812, everything about the brewery is uniquely tied to the Northwest, and specifically to their hometown. They restored the historic Fort George building that was on the site of the original Fort Astoria settlement site, and now operate an entire little cultural center of types, complete with the brewery, restaurants, and a music venue.

The Beers From Fort George
The beer that Fort George produces is only distributed in the Northwest, and they are focused on using local ingredients wherever possible. The stable of core beers include hoppy favorites The Optimist and Vortex IPA, their muscular Cavatica Stout, and the refreshing Belgian-style Quick Wit. They also produce a range of taproom only and limited seasonal beers, lead by their 3-Way IPA, an annual collaboration with two other breweries.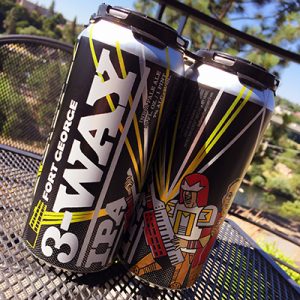 Let's Have a 3-Way (IPA)
Fort George has worked with some of the country's most exciting craft breweries over the course of time that they have been producing 3-Way IPA. Each year this beer has a little different style to it, but it has consistently been a favorite among craft beer drinkers in the Northwest. This year has probably been the most in-demand that I have seen, with retailers and bars having trouble keeping on shelves or taplists. This year's version is a collaboration with Seattle's Reuben's Brews and Great Notion Brewing and represents the three brewery's take on the popular hazy New England influenced style.
Our August Line-up and Kickoff Event
As always, we will be featuring a mixture of seasonal and core beers for our Fort George feature. There will be some rotation as we work our way through the month, but here are the beers that we will be starting off the month with –
Quick Wit Beligian-Style Wheat
Sucker Punch Sour Ale
Shady Grove (Collaboration with Finnriver Farm and Cidery)
Vortex IPA
3-Way IPA
Cavatica Stout
We will have Fort George rep, Hoyt Smith, on hand for our kickoff event on August 3rd from 6-8pm. You can try all 6 Fort George beers for $10 ($5 for our club members.) This is going to be a fun feature, and some of these beers won't last long, so you'll want to try to make the kickoff event. We look forward to seeing you and to pouring you some delicious Fort George beer in August!
---
Let us know if you would like to be added to our mailing list or would like more information about our beer club.
SaveSaveSaveSave