Any old bar can get you buzzed! At Nectar Wine and Beer we pride ourselves in carefully curated craft wine and beer experiences. Our team scours the new products, travels the Northwest and seeks out THE best wine and beer for our guests.
Join...
Shop Now
Learn More
WINE AND BEER CLUB
Membership has it's privileges. Join the wine or beer club today to start saving. Visit our Wine and Beer Clubs page for all the club benefits.
Product Discounts
Get 15% off mixed six packs of beer or wine and other exclusive discounts
Never Ending Happy Hour
A happy hour that never ends? Club members enjoy happy hour seven days a w
Waived "Drink Here" Fees
Pick any product from our retail section and we waive the drink here fee.
WEEKLY
EVENTS

– Join us for these awesome weekly events

Join us weekly for fun and interactive wine and beer events. Some events are seasonal. Stay connected through our social media pages or sign up for weekly email updates.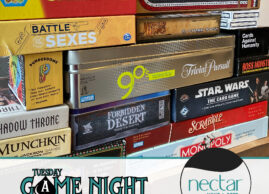 Join us for Tuesday game night from 5pm to close. Nectar has a selection of games for you...
Learn More
ENJOY LIFE WITH FRIENDS, DRINK HAPPY
Thank you for all your support and love Spokane. Voted INLANDER "Best Wine Bar 2022" and "2nd Best Wine Shop"