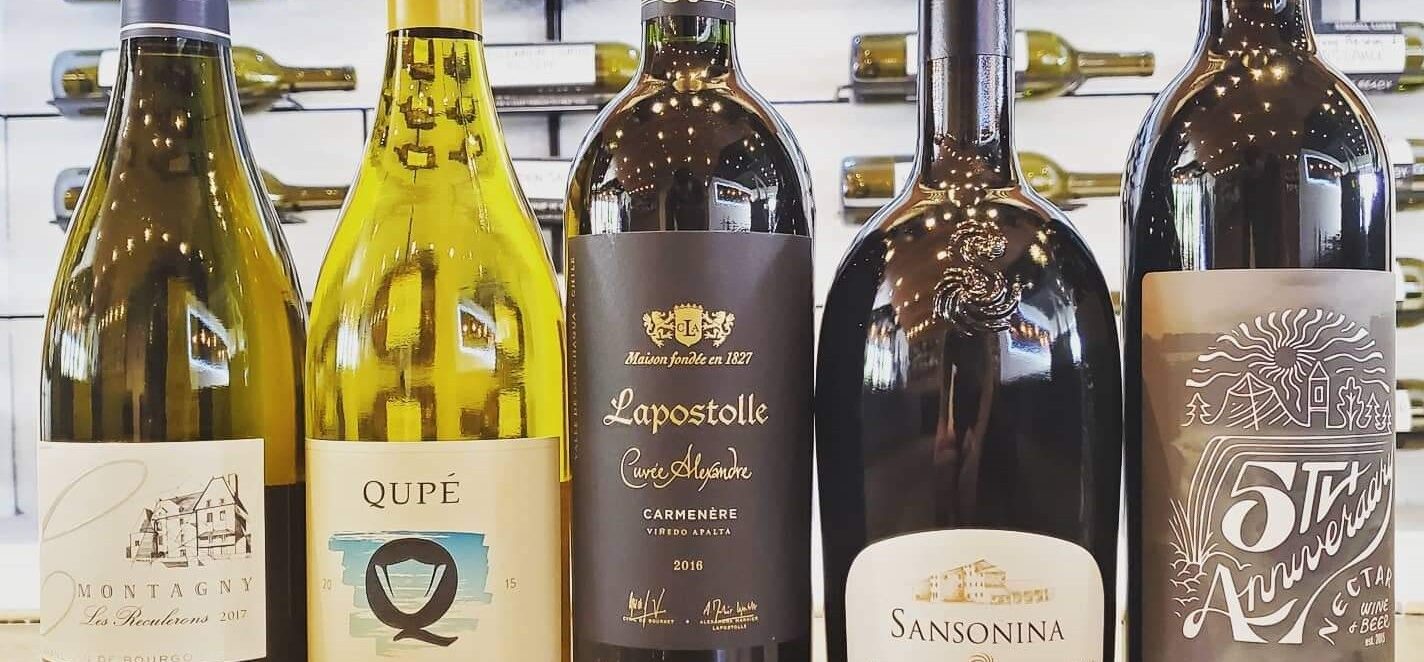 As 2020 grinds on it is clear that great craft beer and wine are essential to survival. You, our amazing members, have been awesome to see during these times. Thank you again for understanding and adhering to the regulations set forth in our capacity and mask mandate. This month I (Josh) tried about 100 wines as I was making the decisions for the wine club. I hope you enjoy the selections as much as I do and we look forward to opening the bottles on Thursday, August 14 from 6 to 8pm. Pre-reservations are no longer required. Drop in and enjoy the wine club reveal. Check out the notes below. We are also archiving them on our website now so you can go back and look at previous months notes.
AUGUST WINE CLUB
First WHITE – Chateau du Chamilly Burgundy White (FR) $24.99 – There is nothing like a well made Burgundian or Loire Valley white! I loved the crispness and vivaciousness of this wine. One would be hard pressed in a blind tasting to call this out as 100% Chardonnay. Serve with shell fish, white fish and warm summer nights on the patio.
Second WHITE – Qupe A Modern White (CA) $21.99 – Qupe is a unique wine project in the Central Coast of California. They focus on cool climate Rhone whites and reds. This is a fun blend of Chardonnay, Rousanne and Marsanne. The nutty characteristics are complimented by baked apple pie and white pepper. This is a heartier white wine.
First RED – Lapostolle Alexander Cuvee Carmenere (CH) $24.99 – Those that know me know that I love Carmenere. This once thought to be extinct wine grape is thriving in Chile. I love how the leafy complexity of dried sage, pine cones and forest floor combines with earth and paprika, but then with very fresh fruit, such as blueberries and citrus. Medium to full body, chewy and grainy tannins and a bark-laden finish. 94 points James Suckling.
Second RED – Sansonina Merlot (IT) $29.99 – I really wanted this wine in the lead spot but the distributor didn't have enough. This is a beautiful expression of older vine Merlot out of Veneto Italy. This is a masterful balance of elegance and lush flavors. You'll want to buy more!
Third RED – NW Cellars 5th Anniversary Malbec (WA) $24.99 – This single vineyard Malbec (Verhey Vinyard) just got double gold in the Seattle Wine Awards. Layers of tobacco, blue fruits and juicy berry are paired with savory spices.
Premium RED – Duckhorn Cabernet (CA) $69.99 – Looking for a classic expression of Napa Cabernet for less than $100? Duckhorn delivers! 94 points W&S There's black-currant clarity to this clean and luscious cabernet, a blend of Duckhorn's estate-grown fruit with purchased grapes. The dark fruit is layered with brighter black-raspberry flavor and rich chocolate tones from its time in French oak barrels (50 percent new). Relatively light in weight but saturated in flavor, the wine sustains a lovely mineral tension as it opens with air. No more at this price. New price is $79.99
More